Over the past few decades, most of our road network and transport infrastructure has been designed for car-use rather than for walking, cycling and travel by public transport. Connecting Sheffield will change this.
Take a look at this short animated film which explains more about the project:
Connecting Sheffield from SheffieldCityCouncil on Vimeo.
We want people to be able to confidently make the choice to travel by bike and on foot, and to be able to use a reliable public transport service.
Connecting Sheffield is focused on improving infrastructure to attract more people onto public transport, and to use cycling and walking to get about. This will help to reduce congestion and improve the environment for everyone.
Some of the key aims of Connecting Sheffield are to:
Significantly improve bus infrastructure on key routes. The aim is to make key bus routes faster and more reliable and to create a public transport network that works for everyone.
Create safe cycle routes. We will transform the city's cycling infrastructure by delivering easy-to-follow, largely segregated cycle ways from the city centre to inner city neighbourhoods and key employment areas. These routes will be designed to make cycling safe and a more attractive option, particularly for shorter journeys.
Make it far easier to walk. We will improve the public spaces, footpaths and environment in and around the city to make walking as easy, safe and accessible as possible.
Benefits of Connecting Sheffield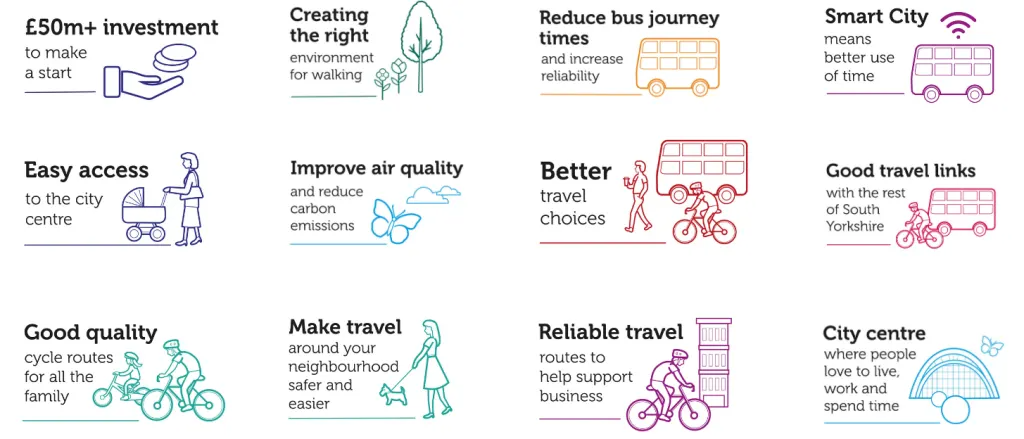 How can I get involved?
It is important that you get the chance to understand and shape what the project will mean for you and your area. There will be lots of ways for you to get involved in Connecting Sheffield and we would welcome your ideas and feedback when we share details of the schemes over the coming weeks. You can start by signing up here for updates.
What happens next?
We will be widely publicising the consultation on each of the schemes within Connecting Sheffield over the coming weeks and will be adding the proposed routes to this website. You will be able to comment on the routes and the proposals and your feedback will then be carefully reviewed and considered as we refine the schemes.