Update 01/08/2022: A new bus service connecting 12 stops in and around Sheffield City Centre has launched today, providing residents and visitors the opportunity to hop onto the bus from the train, tram or other bus services. The buses will be available 7 days a week to cover the main shopping times and when footfall is highest, with a regular service throughout the day.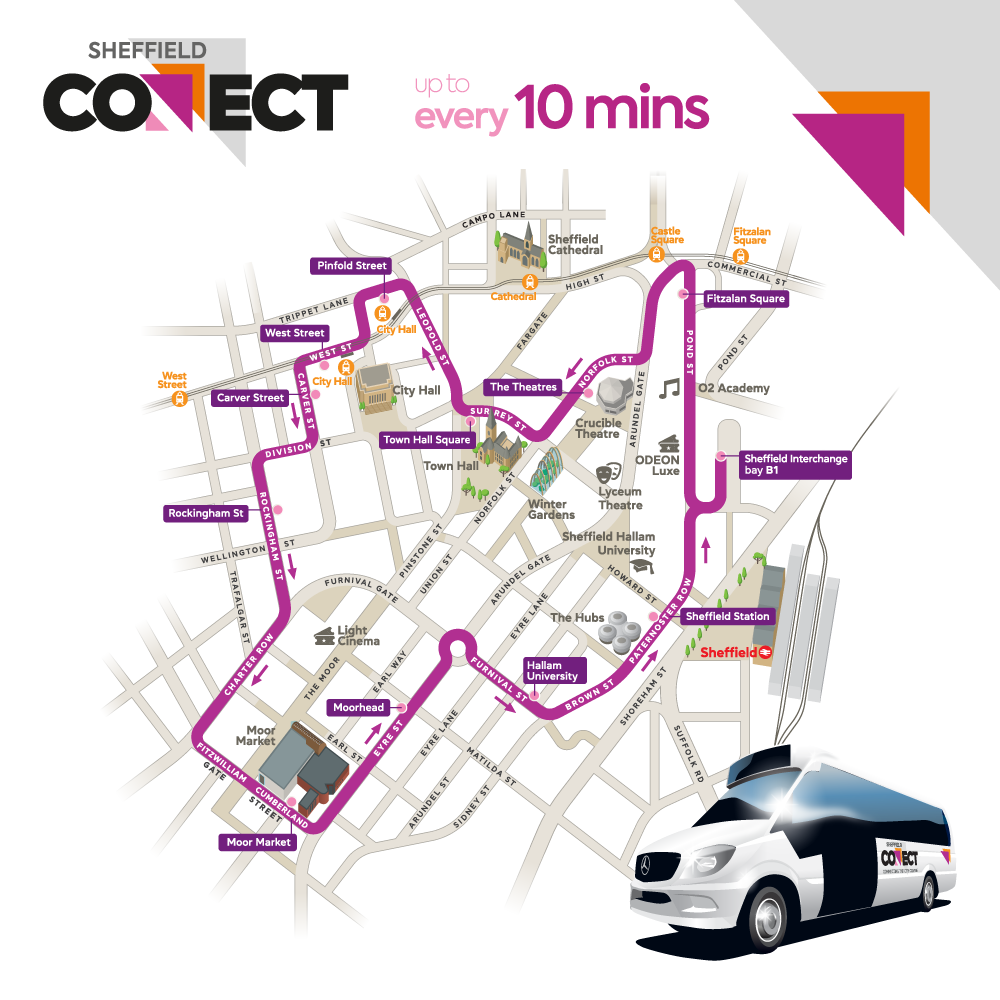 You can view the route and timetable here.
A link to more information on the bus can be found here.
Consultation on Connecting Sheffield: City Centre ended on 7 January 2021
You can now view the consultation report for this scheme here . You can also view an Executive Summary of the report here .
Introduction
Connecting Sheffield: City Centre is an ambitious scheme to transform Sheffield City Centre into a greener, more accessible and attractive place to live, work and spend time. Alongside projects including Heart of the City, it will form part of the transformation of Sheffield City Centre into a vibrant, dynamic commercial heart of the City and City Region.
The proposals aim to improve the City Centre environment by creating new green spaces alongside direct, safe and attractive walking and cycling routes. New bus corridors will simplify routes, allowing buses to cross the City Centre more quickly and avoid congestion hot spots, helping to improve bus service reliability.
To illustrate the ambition of the scheme, take a look at the photomontage below which provides an indicative visualisation of Town Hall Square in the City Centre. The slider shows the viewpoint at present compared to the viewpoint after the scheme is delivered.
New Green Public Spaces
Improving the number and quality of green spaces in the City Centre is at the heart of the vision for Connecting Sheffield: City Centre . Sheffield is known as 'The Outdoor City' for its thriving green spaces and proximity to the world-renowned Peak District National Park. Connecting Sheffield will bring 'The Outdoor City into the City', adding new trees and planting to the street scene of the centre in the same way as has been implemented along West Bar and Castlegate, making key streets more attractive and creating new green public spaces.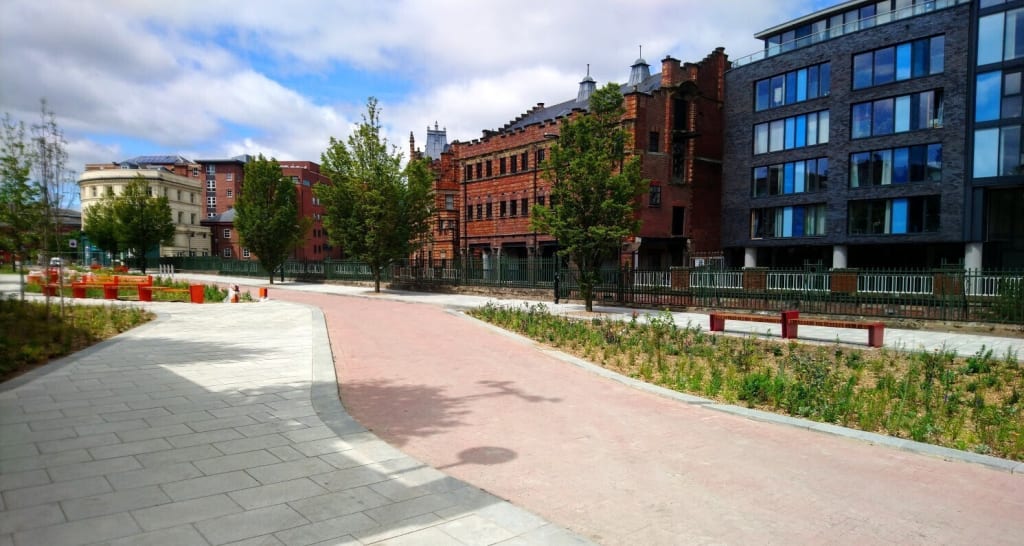 Example of a Grey to Green scheme in Castlegate
New runs of planting, greenery and landscaping will be integrated with sustainable urban drainage systems to mitigate against flood risk along Pinstone Street, Furnival Gate, Arundel Gate, Leopold Street, Surrey Street and Rockingham Street, complementing similar improvements already implemented at Charles Street and Charter Square. The plans will also see a new pocket park created where the Furnival Gate roundabout currently sits.
The focus on high-quality green spaces will create an improved environment for people to relax, enjoy themselves and spend time, whilst also making the City Centre more vibrant and attractive as a place to visit.
Click here to view the overall plan to transform the City Centre streets and spaces.
New Cycling and Walking Infrastructure
New cycle routes will be implemented across the City Centre, alongside the creation of a far better environment for walking. The measures will be integrated with the new green spaces to make it quick and easy to travel around and navigate across the City Centre.
The below visualisation shows Arundel Gate where it meets Furnival Gate with increased bus priority alongside a new, improved green walking link and bi-directional cycle route. The slider shows the viewpoint at present compared to how it will look after the scheme is delivered.
As well as connecting to the existing cycle network in Sheffield , the new City Centre cycling routes will be developed to connect to other new cycle routes which are being brought forward as part of Connecting Sheffield including Nether Edge-City Centre, City Centre-Darnall and Neepsend-Kelham-City Centre. Further information on these new schemes will be brought forward in the coming weeks.
These measures will be complemented by the proposed development of a major new cycle storage hub in the City Centre. A cycle storage hub already exists at Sheffield Station, and more hubs are likely to be developed in the future to meet increased demand.
By providing high-quality, easily navigable cycle routes to communities living near to the City Centre and Lower Don Valley, we can reduce the number of journeys by car and improve air quality.
Improved Public Transport Infrastructure
Simplified bus routes across the City Centre will mean bus journeys become quicker and more reliable, helping to attract more people to use public transport.
Vehicle access will be removed from Leopold Street (inbound towards the Town Hall) to create the new cycle lanes and walking routes, and Pinstone Street will be pedestrianised from Surrey Street to Cross Burgess Street. Access to the John Lewis car park will be maintained through one-way road access travelling up Pinstone Street from Charter Row via Moorhead. Instead of travelling down Leopold Street and Pinstone Street, buses will travel down an upgraded Rockingham Street bus corridor running along the section between West Street and Wellington Street.
The current one way system on Rockingham Street will change. Between West Street and Division Street, the northbound movement will be accommodated in one lane rather than the existing two, as there will be an introduction of a southbound bus lane. The section between Division Street and Wellington Street (shown on the map below) will see new high quality bus stops, paving and greenery implemented as well as improved walking routes. General traffic will be able to travel each direction between Division Street and Devonshire Lane, and then southbound only thereafter to Wellington Street. Click here to view a larger image of the plans for Rockingham Street shown below.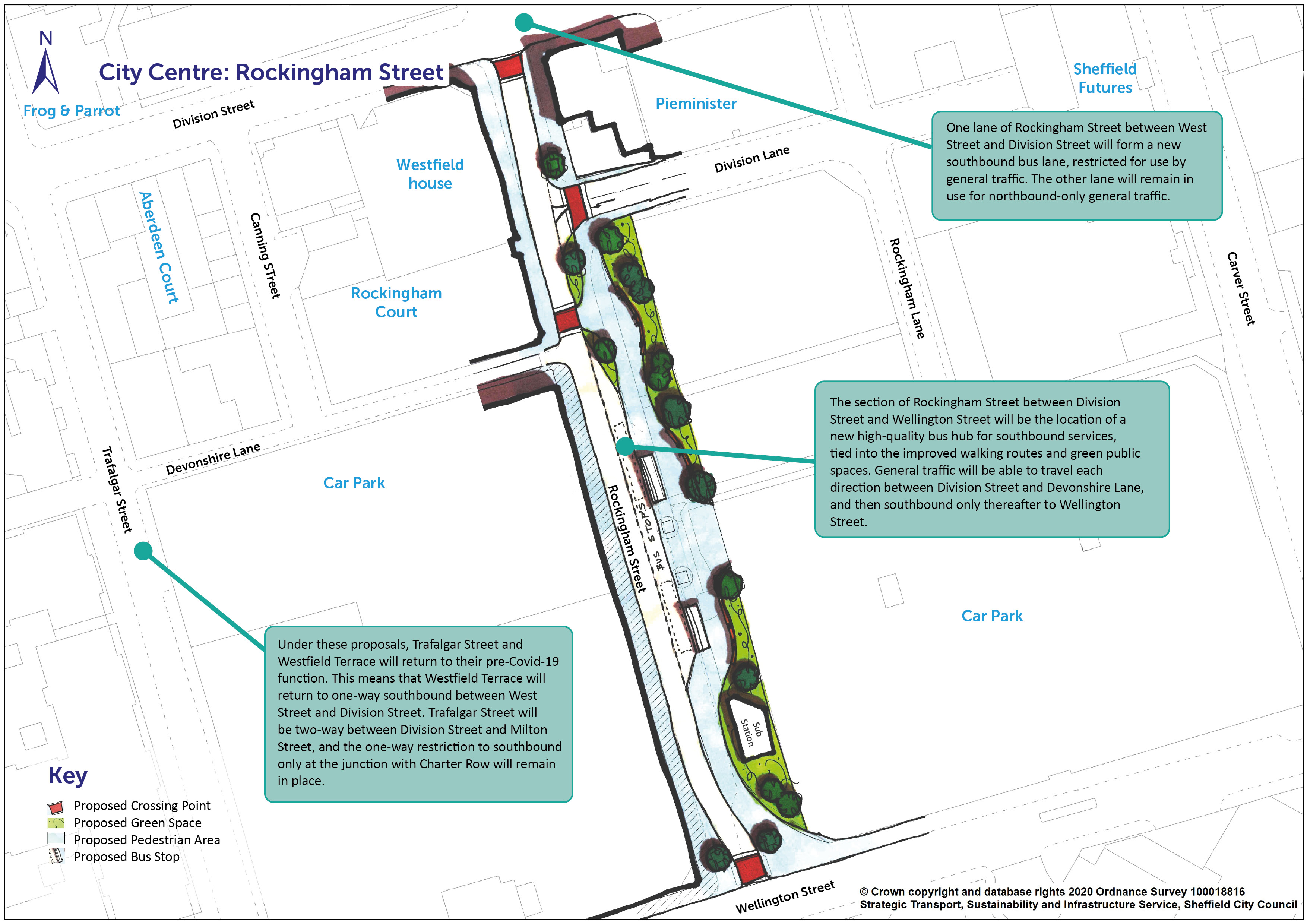 Buses will have priority access down Furnival Gate which will improve journey times and reliability and allow people to be dropped off in the middle of the city's shopping district. Arundel Gate will remain a major bus corridor serving the city centre. To improve priority for buses, a bus gate will restrict traffic heading towards Castle Square from Furnival Gate. The bus gate will be located after the Novotel Hotel in order to maintain access to the Union Street area. There will be no restriction for traffic in the opposite direction.
New bus stops will be introduced at the same place, on opposite sides of the road, for routes running in both directions. This will make bus routes easier to understand and follow.
Once the plans have been finalised and work is ready to get underway, information will be shared in advance of any changes to help bus users understand if and how their usual routes will change. Sign up here to receive travel related updates from Sheffield City Council.
Access to the City Centre for cars, vans and taxis
The plans for the City Centre are focused on creating a better environment for walking and cycling and improving the public transport network. Although we want to encourage people to leave their car at home and use alternative transport methods where possible, we know this is not always viable.
While through traffic will be restricted in some locations, access will be maintained to key car parks. Access will be retained for deliveries for both businesses and residents. Where areas are pedestrianised, this access is likely to be time-restricted as is currently the case for Fargate. The Council is keen to hear from businesses where this may present challenges so that any issues can be considered further as the plans are developed. It is anticipated that the loss of on-street parking will be minimal, although there will be the loss of some spaces along Rockingham Street. There is, however, sufficient capacity in nearby existing car parks.
Surrey Street will be closed to cars to prevent access to Pinstone Street. Access will remain along Norfolk Street to allow for deliveries to Surrey Street. The closure of Surrey Street to through traffic will enable the creation of a new pedestrianised area at Town Hall Square.
Taxis will still be able to drop off and pick up in all areas where vehicular access is allowed, and blue badge holders will be able to park in any area where specific restrictions do not apply.
The maps below highlight some of the key proposed changes to routes in the City Centre.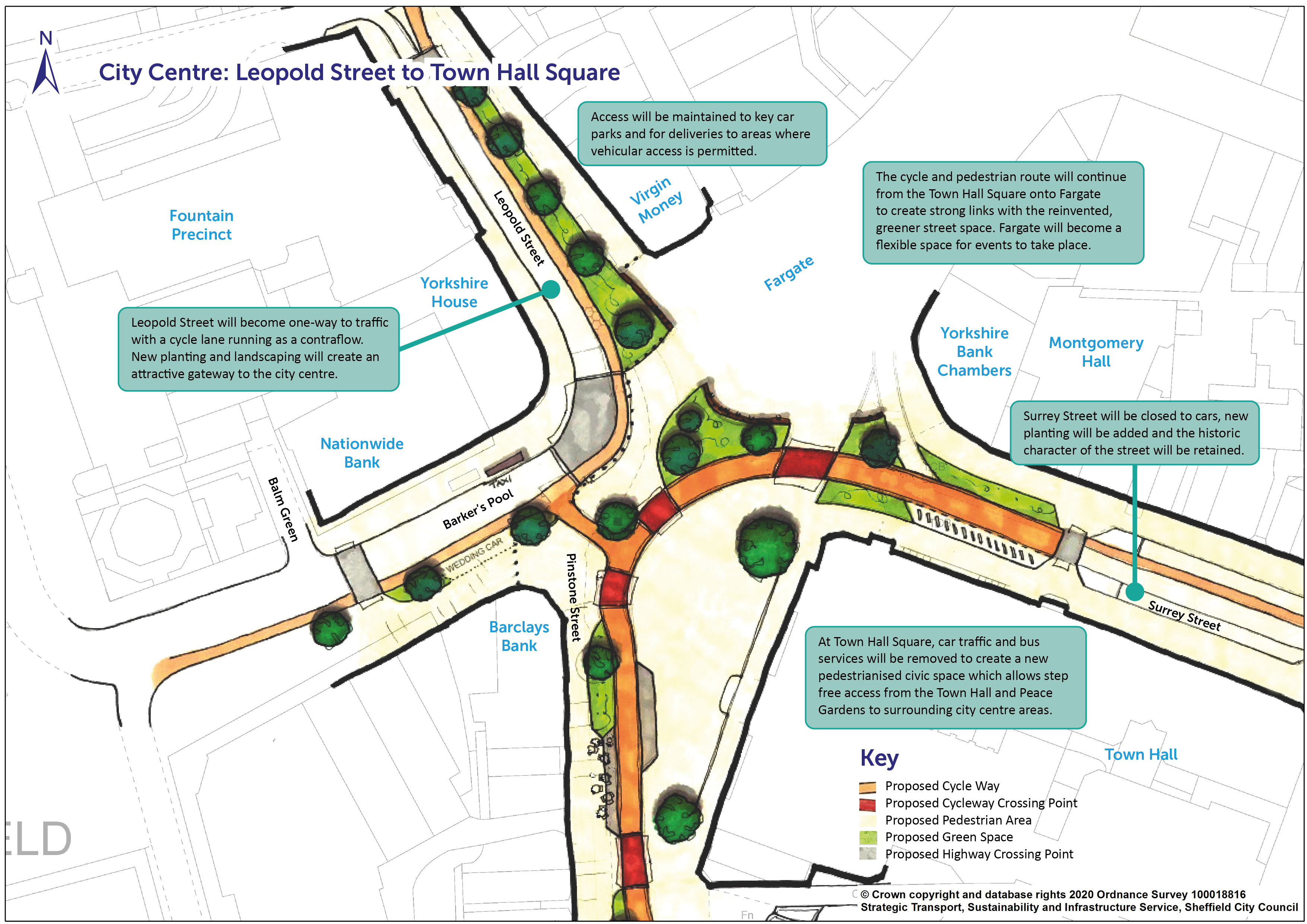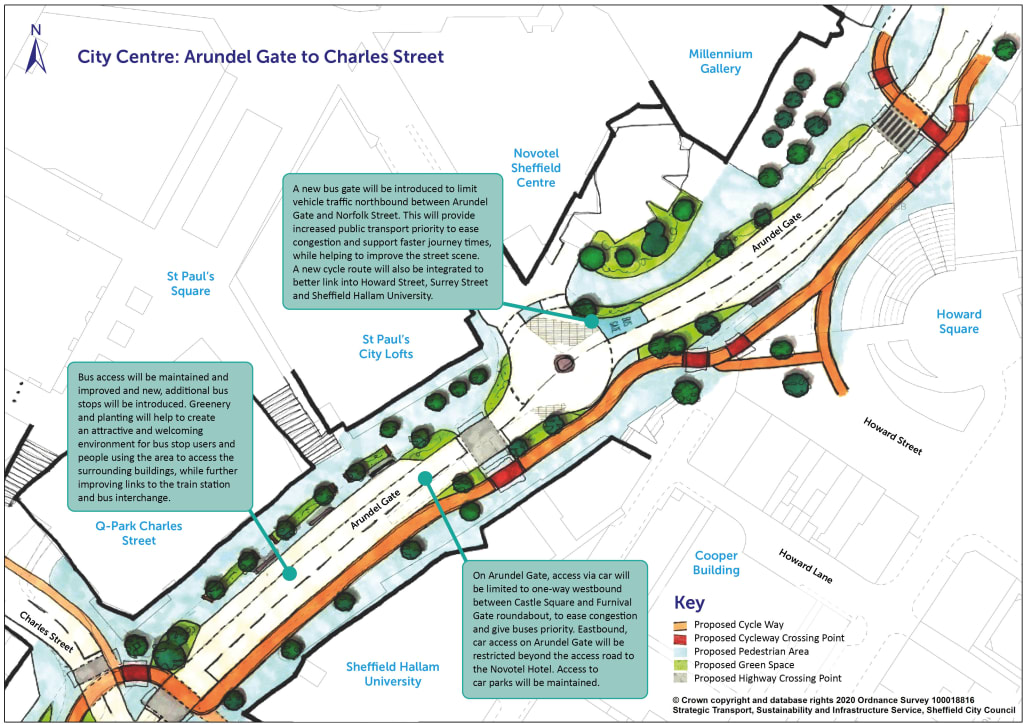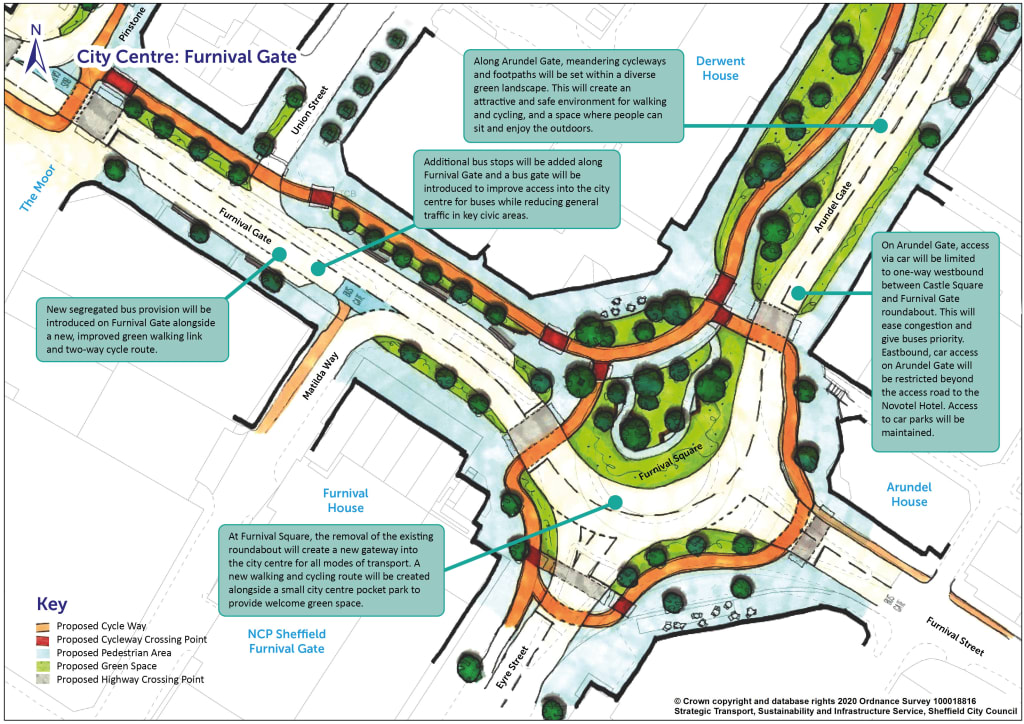 You can also view the pdf of each map and zoom in by clicking on the following links:
Leopold Street to Town Hall Square
Arundel Gate to Charles Street
-----------------------------
To help us to monitor the success of this project we may need to occasionally survey traffic in the area using cameras mounted on lamp posts. We need to do this so that we can understand how traffic has been affected by the scheme. For example on certain roads we may wish to understand whether traffic has reduced or increased as a result of the scheme.
If you have any queries, concerns or complaints about the way Sheffield City Council processes your personal data, including the way we handle information requests, you can contact our Customer Services or the Data Protection Officer.
If you are not satisfied with our response or believe we are not processing your personal data in accordance with the law you have the right to contact the Information Commissioner's Office.