1st July 2022: As part of the ongoing consultation period, we will be hosting some drop-in sessions so you can find out more about the scheme, ask any questions you may have and give feedback to the council officers working on the Active Neighbourhood.
The drop-in sessions are open to anyone and will take place at the following times, dates and locations:
Wednesday 13th July, 4 - 7pm at The Common Ground Community Centre
May 2022 : On Wednesday 25th May the changes to Archer Lane will be implemented on a trial basis. This means that Archer Lane will be closed at the junction of Brincliffe Edge Road. You can use the contact details further down this page to feedback your comments.
Proposals for Nether Edge Road and Union Road are on hold while we undertake more work to ensure access for larger vehicles can be maintained. This will also give us the opportunity to assess the impact of closing Archer Lane.
We are also planning a drop in session in the area in the next couple of weeks to hear your views. More details will be posted here once they are confirmed.
A list of Frequently Asked Questions about this scheme can be found by clicking here .
An Active Neighbourhood aims to creates a safer, cleaner and quieter environment for residents and local businesses to enjoy.
Last year we asked what you thought an Active Neighbourhood in your area could look like. The link to the consultation and final report can be found here .
You told us that you wanted to see changes made in your area such as less traffic, safer streets for walking, and a nicer place to spend time outside.
Below is a map of the changes that we are introducing in response to this feedback: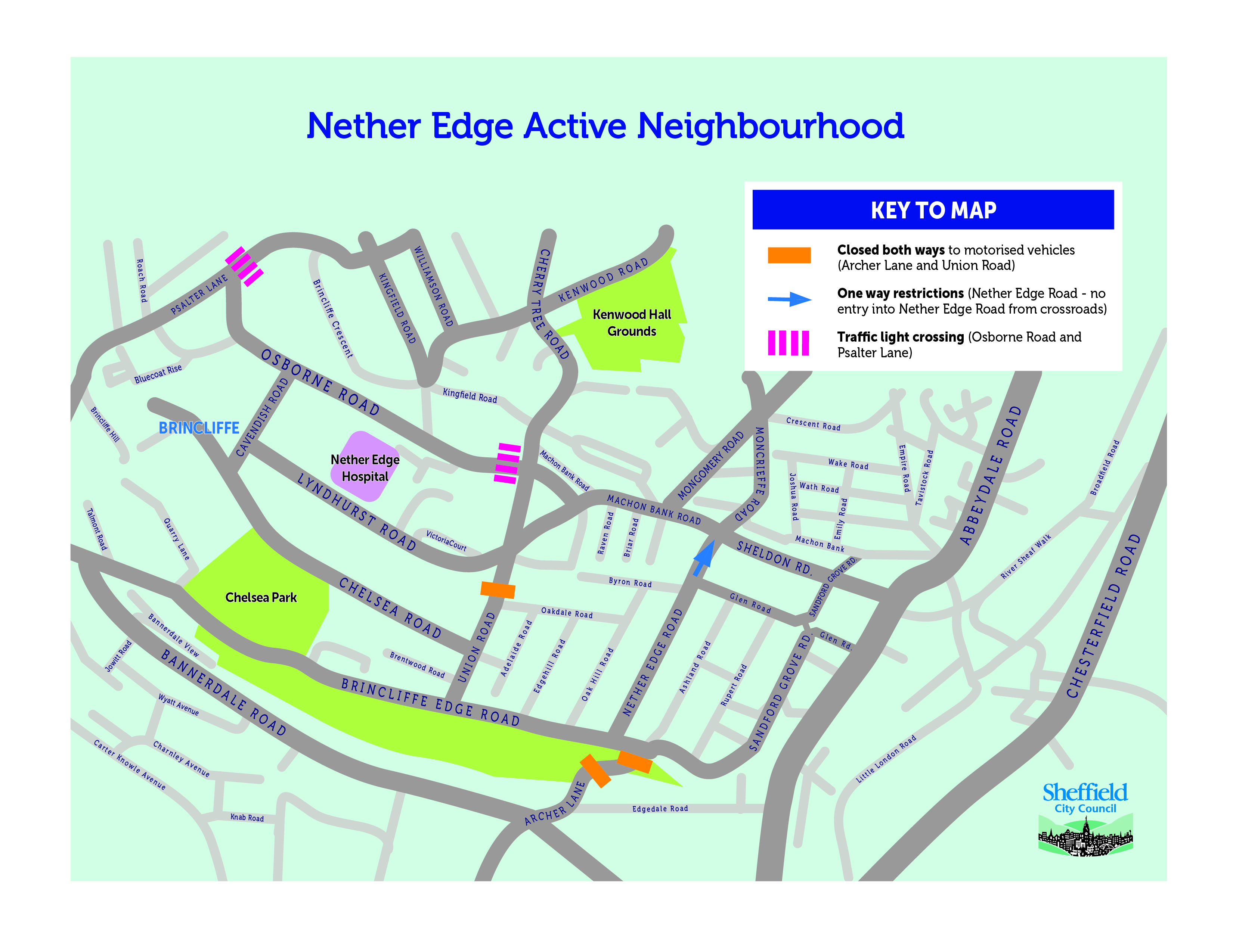 You can view a pdf of the above map and zoom in by clicking here .
The changes we put in place will be advertised through an Experimental Traffic Regulation Order (ETRO).
What is an Experimental Traffic Regulation Order (ETRO)?
An ETRO means that the road closures, crossings, and one-way systems we are introducing to create the Active Neighbourhood will be implemented as a trial and the opportunity to comment and provide feedback will remain open throughout the six-month period of consultation.
During the trial, changes may be considered to improve the effectiveness of the scheme for those living and working in the area.
Notice of the ETRO will be displayed on lamp posts in the area, and it will be available to view online.
Who do I contact if I want to share a concern, comment or leave feedback?
The Experimental Traffic Regulation Order (ETRO) was advertised on 14th April 2022 and came into effect on 25th April 2022.
To view the ETRO on Sheffield City Council's website, click here . You can also read the ETRO as a pdf here .
Details of how you can formally register your feedback as part of the process are shared within the ETRO and are also outlined below:
To share your comments via email, please send your feedback to: connectingsheffield@sheffield.gov.uk
To share your comments via post, please send your feedback to: Tom Finnegan-Smith, Head of Strategic Transport, Sustainability and Infrastructure Howden House, 1 Union Street, SHEFFIELD, S1 2SH
If you have any immediate questions or concerns about the scheme before any changes are put in place, you can email connectingsheffield@sheffield.gov.uk or call the Connecting Sheffield team on 0808 196 5105.
When will the changes be implemented?
You will start to see implementation of the scheme at the end of April 2022 with work expected to be completed in May 2022.
How long will the changes be in place?
The trial will take place for six months. After this time there will be a review of the scheme and formal decisions will be made around which elements of the trial should stay in place and which should be removed or changed. During this time the scheme will remain in place. Decisions will be based on your feedback received through the ETRO, monitoring the traffic flow changes, and the funding available.
What happens next?
Once the Active Neighbourhood is in place you can let us know what you think to the changes or report an issue through our email address connectingsheffield@sheffield.gov.uk or call the Connecting Sheffield team on 0808 196 5105 .
During May 2022 we will also be sharing a survey with local residents and businesses to ask how you feel about the Active Neighbourhood.
------------------------------------------------------
To help us to monitor the success of this project we may need to occasionally survey traffic in the area using cameras mounted on lamp posts. We need to do this so that we can understand how traffic has been affected by the scheme. For example on certain roads we may wish to understand whether traffic has reduced or increased as a result of the scheme.
If you have any queries, concerns or complaints about the way Sheffield City Council processes your personal data, including the way we handle information requests, you can contact our Customer Services or the Data Protection Officer.
If you are not satisfied with our response or believe we are not processing your personal data in accordance with the law you have the right to contact the Information Commissioner's Office.