The consultation on Sheaf Valley Cycle Route closed on Friday 13th August 2021
You can now view the consultation report for this scheme here . You can also view an Executive Summary of the report here .
To find out the latest update on this scheme, please click here .
Introduction
The Sheaf Valley Cycle Route is a scheme which would be funded by the Active Travel Fund as part of our Connecting Sheffield vision. The enhanced cycle route being proposed would run from the City Centre to Woodseats Road via Shoreham Street and Little London Road. We are now consulting on our proposals for this scheme and would like to hear your views.
The proposals for this scheme have been developed based on the potential for people to use the route and the opportunities the route offers to access employment, training and education.
The proposals for the Sheaf Valley Cycle Route would connect into existing cycle infrastructure around Pond Hill, improving links to Sheffield Midland Train Station and Sheffield Hallam University's City Centre campus. They would also connect to the cycle routes incorporated in the Grey 2 Green project running between Victoria Quays and West Bar – leading to proposed largely segregated cycle routes to Attercliffe and Darnall, to Kelham and Neepsend, and around the city centre. These have been recently consulted on as part of Connecting Sheffield.
Developing an improved and safer cycle route in this location would assist people who currently cycle, encourage increased take up of cycling, and potentially lead to fewer car journeys, helping to reduce congestion and improve air quality for everyone.
By improving the route, we can encourage people who have taken up cycling recently to continue cycling as part of their everyday lives, and enable others to join them. More short journeys to local centres and other facilities could be made without the use of a car, improving the environment for local people along the route.
What does the route look like?
The proposals for this route include a series of improvements that would make cycling from the City Centre to Woodseats Road via Little London Road a safer, easier and more attractive option. There are six areas where works would take place to deliver the improved cycle route if funding allows.
Click here to see a map showing the full extent of this scheme. More detailed maps of key areas where changes are proposed are provided further down this page.
Pond Hill
Starting from the city centre, the scheme would use an existing cycle route which currently runs along Sheaf Street to where it meets the junction with Pond Hill. A separate cycle crossing would be added at the Pond Hill/Sheaf Street junction and a short section of two-way cycle track would be added to link the new crossing to Concourse Way.
Along Pond Hill, once the final phase of Sheffield Hallam's digital campus is complete, there would be a one-way contraflow track towards the bus station entrance and Sheffield Hallam University. Cyclists heading down Pond Hill towards Sheaf Street would use the carriageway. To accommodate the new three-metre-wide cycle track, Pond Hill would be reduced to one lane for motor traffic.
These proposals are shown on the map below.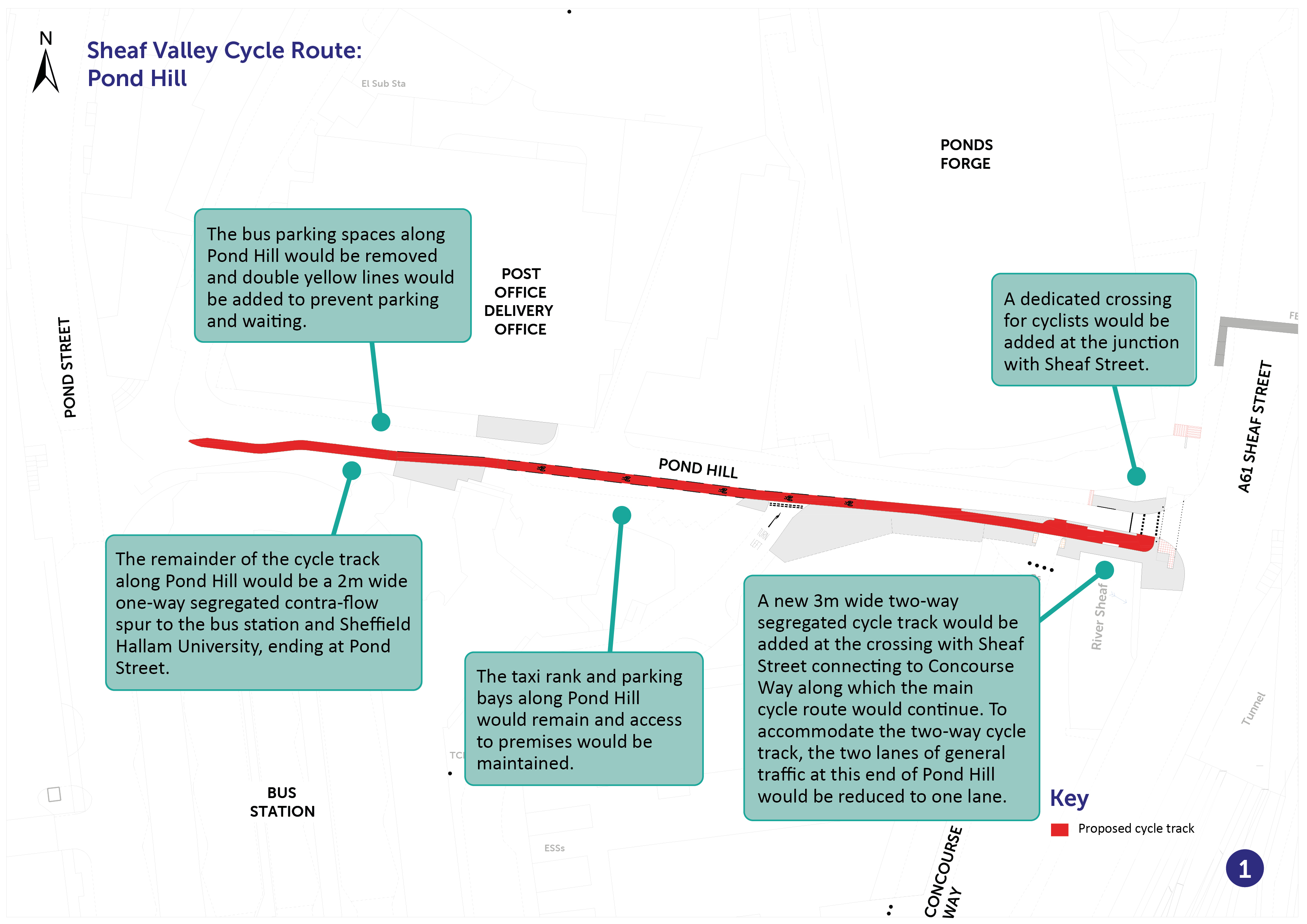 You can view a pdf of the above map and zoom in by clicking here .
Following Concourse Way, the main cycle track would then re-join Sheaf Street at the Harmer Lane junction and continue to the train station.
From Sheaf Street opposite the train station, the route would cross a shared public space to connect with Paternoster Row, Sidney Street, Matilda Street, and then onto Shoreham Street.
Shoreham Street
The existing signal controlled right turn for cyclists from Matilda Street onto Shoreham Street would be segregated from general traffic to make the route safer and the existing one-way cycle route along Shoreham Street would be widened to three metres and would become a two-way cycle route. A new signal controlled right turn from the new cycle track onto Matilda Street would be introduced.
On the approach to the crossing at St Mary's Gate, the cycle track would become shared use for a short section. Where Shoreham Street meets St. Mary's Road, an improved two-way cycle crossing over the inner ring road would provide more space for cyclists and pedestrians and would connect directly to the continuation of the two-way cycle route along Shoreham Street. To facilitate the new two-way cycle track, motor vehicles would no longer be able to turn left from St Mary's Road into Shoreham Street. The alternative route would be via Edmund Road.
These proposals are shown on the map below.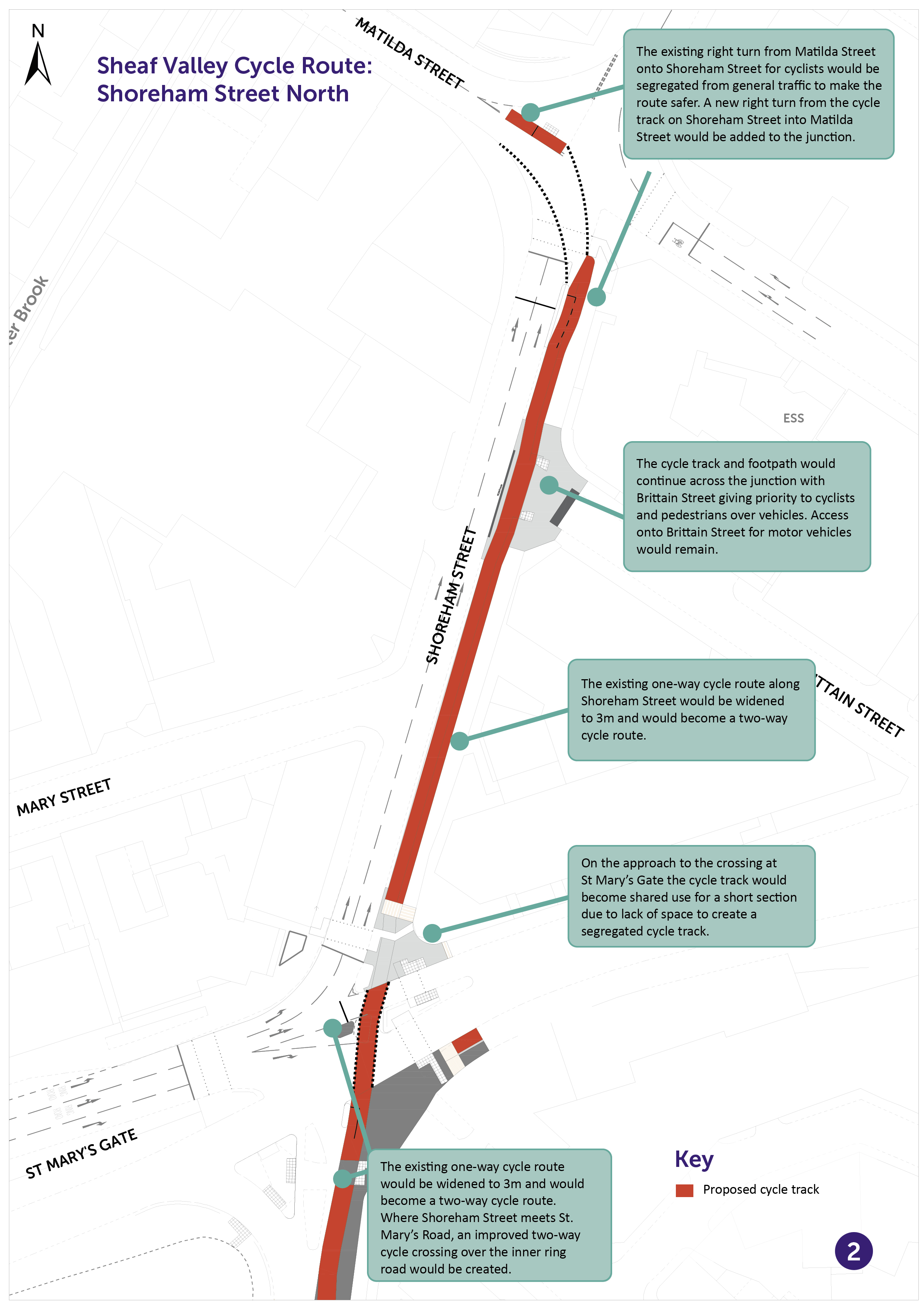 You can view a pdf of the above map and zoom in by clicking here
Once across St Mary's Road further improvements for cyclists would be seen along Shoreham Street until just past Charlotte Road. The exit from Clough Street onto Shoreham Street would be closed to motor traffic on the side which the cycle track would run down.
To create the new three-metre-wide two-way cycle track along this section of Shoreham Street, all of the parking bays on Shoreham Street between Charlotte Road and St Mary's Road would need to be removed. Continuous footways/cycleways would run across access to premises such as the Shoreham Street Surgery to give priority to cyclists and pedestrians but would still allow vehicle access.
The roundabout at Shoreham Street/Charlotte Road would be removed so that Shoreham Street, and the cycle track running along it, run continuously. The junction of Shoreham Street and Charlotte Street (the section from Queens Road to Shoreham Street) would become a T-junction with a pedestrian island incorporated near the junction on Charlotte Road to allow pedestrians to cross.
On the opposite side of Charlotte Street and where John Street meets Shoreham Street, access to Shoreham Street would be closed to motor vehicles. Instead, the road would be widened at this location to connect Charlotte Street and John Street, creating a loop that would allow access from John Street and Clough Road. The existing pedestrian crossings around this location on Shoreham Street would remain and be improved for cyclists to use alongside those on foot.
These proposals are shown on the map below.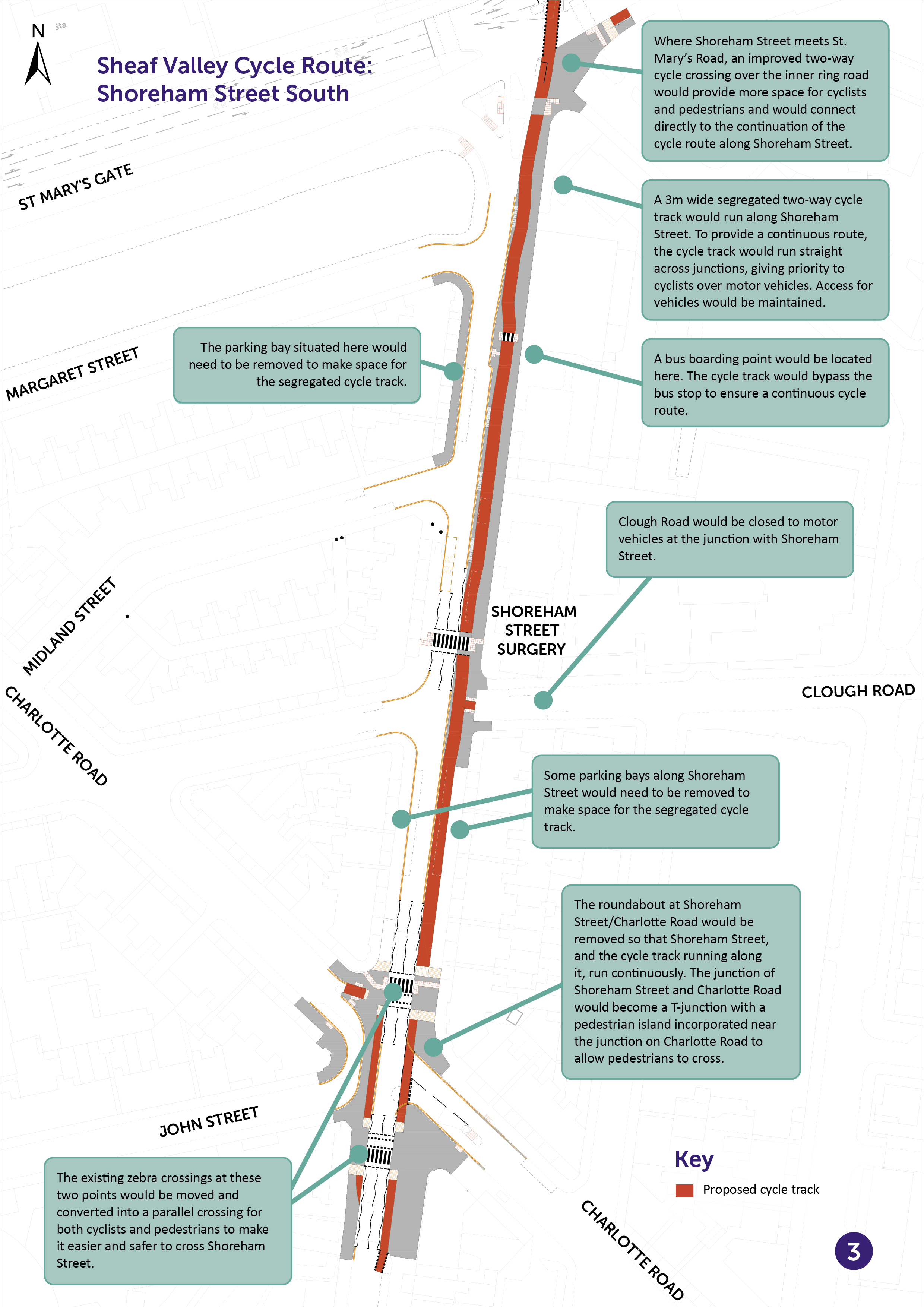 You can view a pdf of the above map and zoom in by clicking here .
Cherry Street
The cycle route would then continue along Shoreham Street. Cherry Street would be closed to motor vehicles at the junction with Shoreham Street using planters and removable bollards. This closure would reduce traffic flow on Shoreham Street making it suitable as a cycle route. The measures would be temporary to test how they work, and the bollards would be removed on match days to enable coach access to the football ground at Bramall Lane.
These proposals are shown on the map below.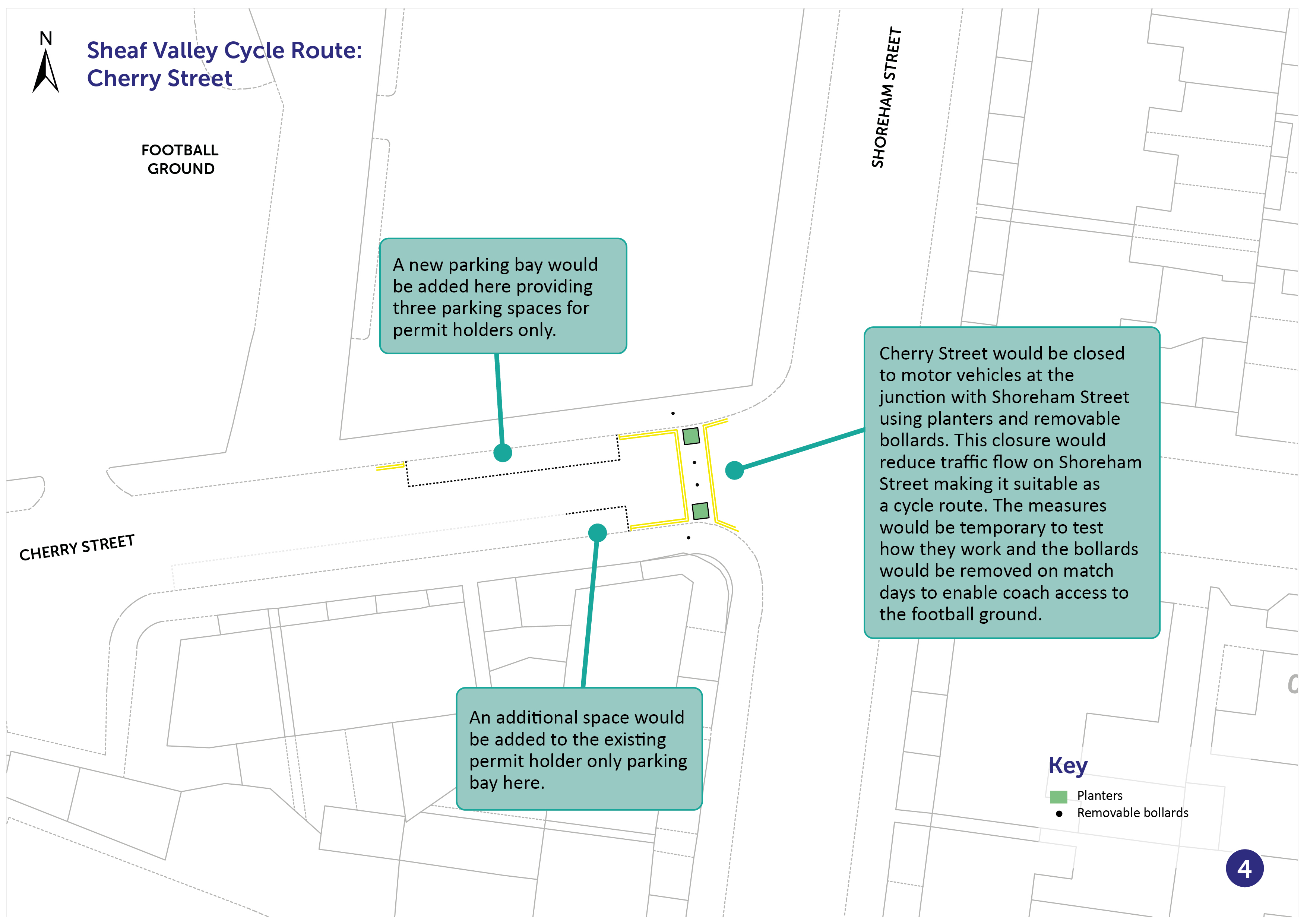 You can view a pdf of the above map and zoom in by clicking here.
Asline Road
The route would then turn up an existing section of the route shared by cyclists and pedestrians along the bottom of Alderson Road, which runs through Lowfield Park to connect into Asline Road. On Asline Road the existing cycle track would be widened to create a three-metre-wide two-way cycle track. The island currently positioned in the cycle track along Asline Road would be removed. The route would then lead onto London Road.
As part of the scheme there would also be consideration of how the cycle track could be protected from illegal parking on double yellow lines around Lowfield Primary School at pick up and drop off times.
These proposals are shown on the map below.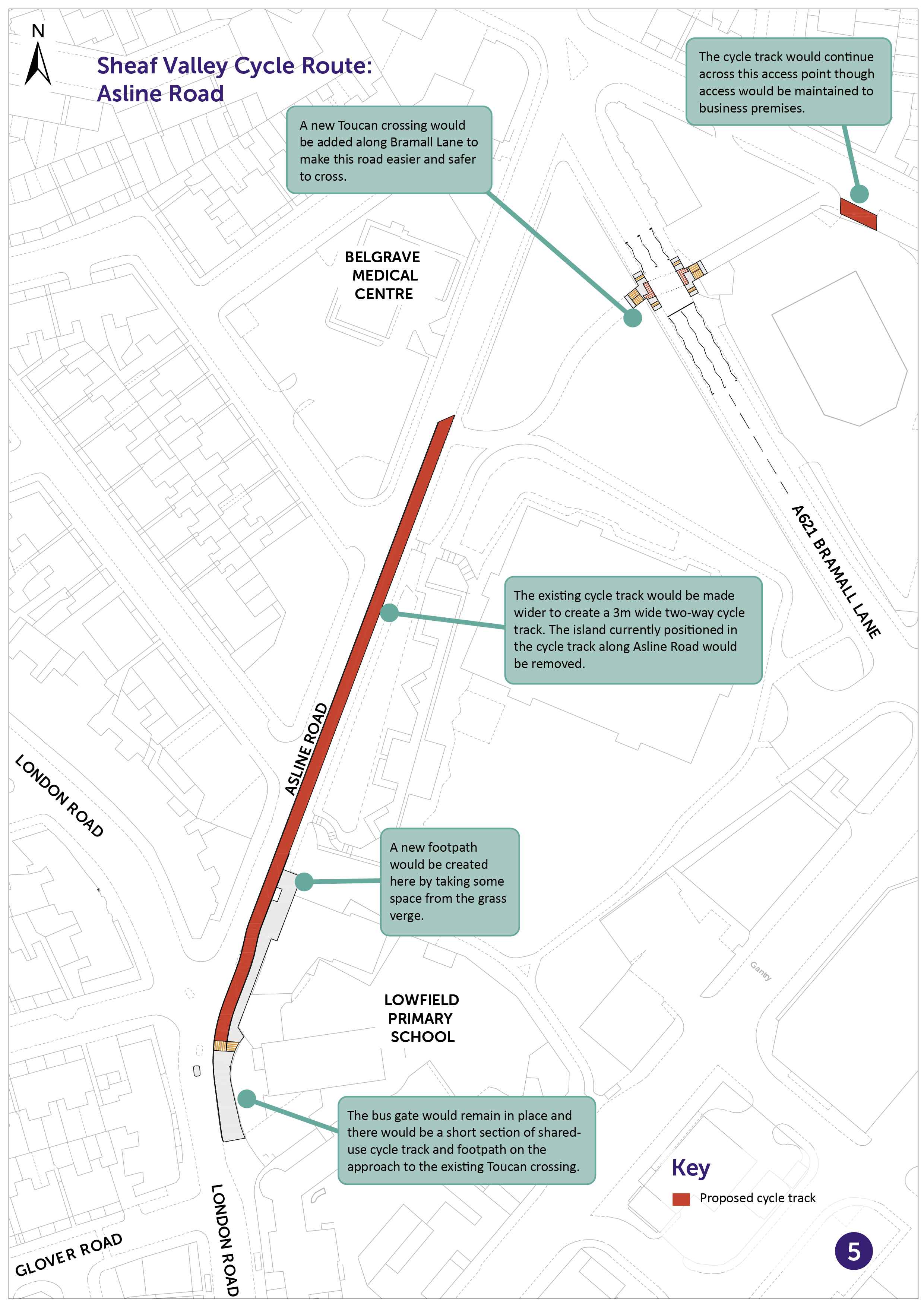 You can view a pdf of the above map and zoom in by clicking here .
London Road to Little London Road
Cyclists would then use the existing crossing on London Road to follow the route onto Glover Road and then up to Staveley Road. Proposed traffic signals at the junction of Staveley and Wolseley Road would help cyclists to cross Wolseley Road more safely.
From the junction of Staveley Road and Chippinghouse Road (Chippinghouse Road is already closed at its junction with London Road, reducing traffic in the area) the cycle route continues in its current form, off road, to connect across Broadfield Road to Saxon Road.
On Saxon Road, which has low levels of traffic, double yellow lines would be introduced to prevent parking and waiting, make cycling here safer.
The route would then proceed onto a shared use footpath by the railway which heads around the side of the Virgin Gym towards Little London Road.
Little London Road
On Little London Road double yellow lines would be added to prevent parking and waiting which would ensure the cycle route along the road is clear for cyclists to use and make cycling safer. The road under the railway bridge near to the junction with Rydal Road would be closed to through motor traffic to create a low traffic environment south of the railway bridge towards Woodseats Road.
The existing point closure on Rydal Road would be moved to sit between the junctions of Langdale Road and Rydal Crescent. A turning area for vehicles would be created on the Little London Road side of this closure to allow traffic travelling down Little London Road to turn around.
These proposals are shown on the map below.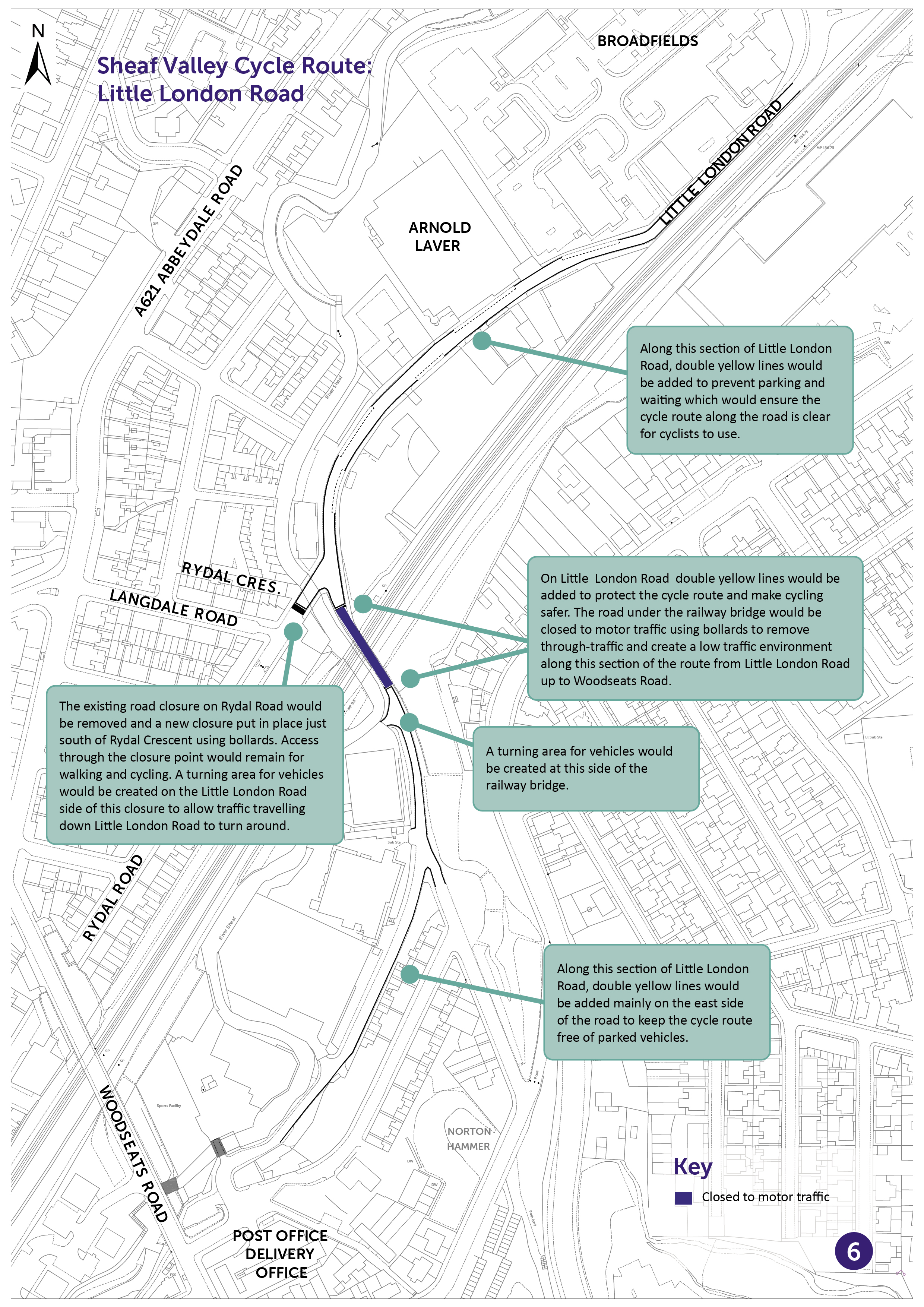 You can view a pdf of the above map and zoom in by clicking here .
Hackthorn Road
Under these proposals, changes would also be made to Hackthorn Road. Motor vehicles would no longer be able to access Hackthorn Road from Scarsdale Road. Left and right turns out of Hackthorn Road into Scarsdale Road would still be allowed. The Broxholme Road, Aisthorpe Road and Nettleham Road junctions would remain as they are now.
The proposed change is shown on the map below.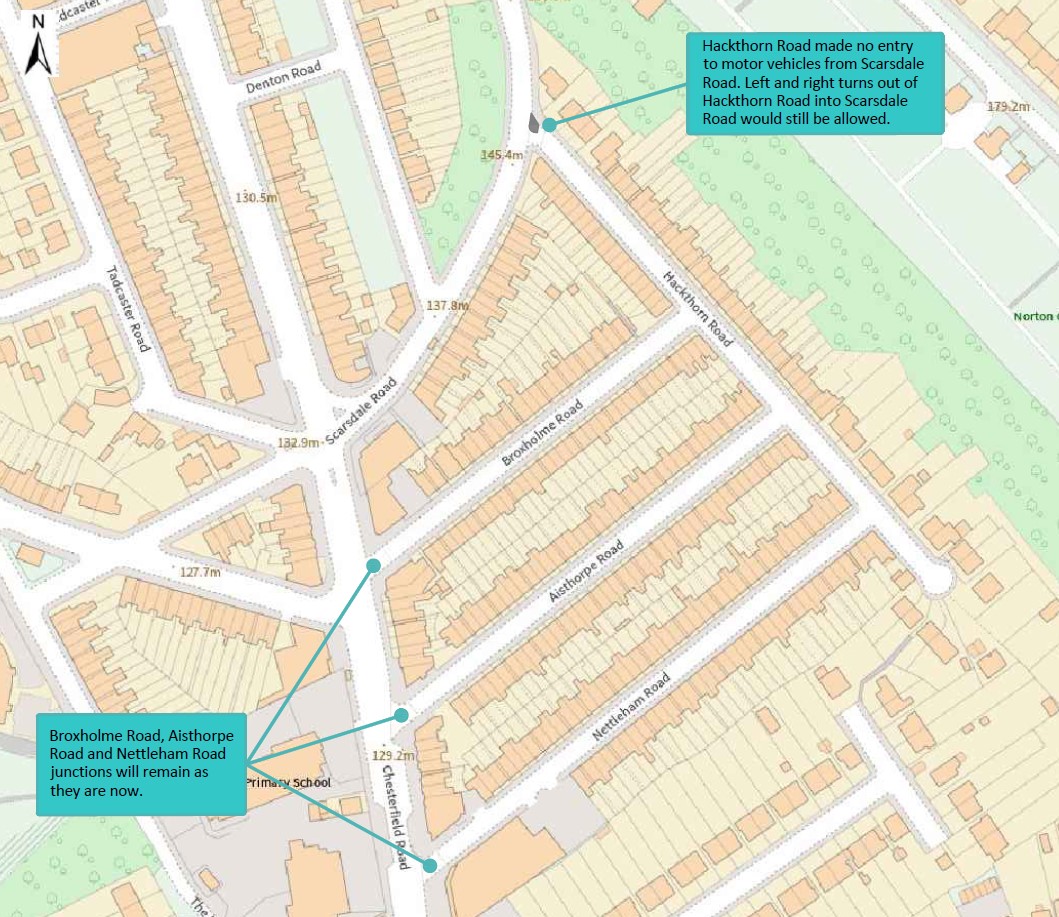 Please let us know your views of these proposals by completing the feedback form below.
If you currently use the Sheaf Valley cycle route and would like to take part in an additional survey to help us to monitor and evaluate the impact of any works which are implemented along the route as a result of this consultation, please follow this link to complete a small number of additional questions. This will only take a couple of minutes of your time.
-------------------
To help us to monitor the success of this project we may need to occasionally survey traffic in the area using cameras mounted on lamp posts. We need to do this so that we can understand how traffic has been affected by the scheme. For example on certain roads we may wish to understand whether traffic has reduced or increased as a result of the scheme.
If you have any queries, concerns or complaints about the way Sheffield City Council processes your personal data, including the way we handle information requests, you can contact our Customer Services or the Data Protection Officer.
If you are not satisfied with our response or believe we are not processing your personal data in accordance with the law you have the right to contact the Information Commissioner's Office.